Description
After the Bajorans have liberated themselves from the long and brutal Cardassian Occupation, the United Federation of Planets is invited by the Bajoran Provisional Government to administer joint control of the station, which initially orbits Bajor. The station is renamed Deep Space Nine, and a Starfleet crew is assigned to manage it. Shortly after their arrival, the Starfleet crew discovers a stable wormhole in Bajoran space leading from the Alpha Quadrant to the Gamma Quadrant, and the station is moved to a strategic position near the wormhole's entrance to safeguard it from the Cardassians. Deep Space Nine and Bajor quickly become a center for exploration, interstellar trade, political maneuvering, and open conflict. Threats come not only from Cardassians, Klingons and Romulans from the Alpha Quadrant, but later from the Dominion, an alliance of alien species from the Gamma Quadrant that take up arms alongside the Cardassians against the Federation and its allies. Deep Space Nine becomes a key military base for the Federation in the Dominion War, and is assigned the starship USS Defiant to aid in its protection.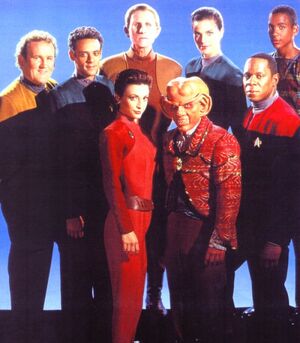 Trending pages
All items (172)
Community content is available under
CC-BY-SA
unless otherwise noted.